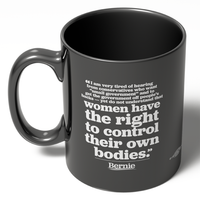 "I am very tired of hearing from conservatives who want 'small government' and to get the government off people's backs - yet do not understand that women have the right to control their own bodies."
on 11 oz. acrylic coffee mug.
Purchase is a donation to
Friends of Bernie Sanders
.
Orders ship within 7 business days.
Made-In-USA.